January 7, 2021 at 4:08 am
#32386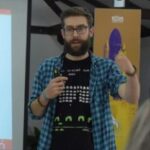 Dr_Héctor
Participant
Hi Comprehensible!
Thanks for your fast answer but no… I've checked all your advices.
1. My only teleport code. Teleports the hero to the other level: Centro_cultural
2. Code teleports, exactly, to this door.
3. At the same point, I've put another tilemap, who launchs this code. That's all.
Otherwise, as I didn't know how it works RPG Playground, I created all the levels first, and now I'm coding the behaviour. I had one mistake, when I saw that I have to use the first level as the level who starts when someone's play. When I detected this, I copied the level, deleted it and change the name to make another as the first and reused as Centro_cultural (sorry if my english is not the best and the process is not really clear…).
¿Maybe when I did this process… some bug was instaled in the code?