The previous few months I have been porting RPG Playground from Flash to HTML5. It was necessary for 2 things:
The Flash technology is going extinct
Walking monsters were too slow in Flash, and I didn't want to optimize a technology that I was going to replace anyway
So, the good news is that everything seems to be running OK, and I didn't even have to optimize the moving monsters :). But to be honest, I'm not 100% sure that everything will still work as expected. So if you see any weird stuff, let me know!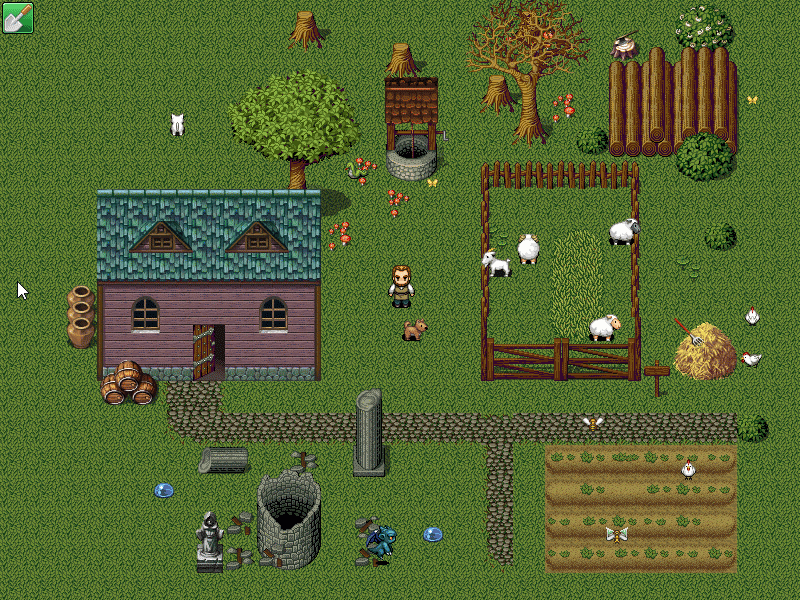 The new release features monsters walking around. In a future release, these monsters will attack you, and you will be able to attack them. You can already swing your sword at them now with the 'F'-key, but it will just push them back, not hurt them.
And while I was working on this, I thought it might be a good opportunity to add some animals. So you can now bring your farm scenes more alive by adding animals.
Another nice thing: my new technology supports mobile devices! But unfortunately I don't want to put any effort into adding mobile controls, so I disabled it for now (because your hero cannot walk around yet). But remark that mobile support is not far off! The tech runs flawlessly on my Samsung Galaxy A5 2016.
P.S.: For those interested in what technology I'm using: